Promotional postcard design
Overview
The purpose of this project is to design a series promotional postcards for York University / Sheridan College Program in Design.
Project Duration
March 09 - March 29, 2016 (3 weeks)
TAGLINE
'Experience with design'
IDEATION
The tagline is about experiencing design in YSDN. Therefore the postcard has to express the concept of 'experiencing with design' from multi-perspective. To express the word 'experiencing,' I chose Sports as my theme because sports is about participating, training and joy. To express the word 'design': CMYK colours, shapes, typography, and coding are the first thing come to mind. Therefore I want to combine the ideas of 'experiencing' and 'design' together to show both theoretical and practical perspective of design.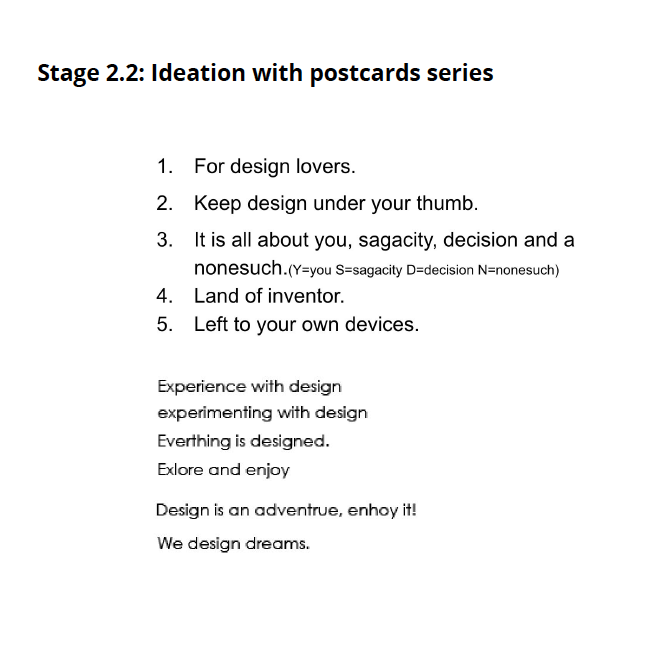 In this design, codes are the metaphor for water. To me, swimmers have always been the epitome of doing things beyond. Swimmers also required skills and techniques. I found swim is a similar sport to what the course expecting. On another side, the coding structure visually looks like water waves.
Sailing is a space free, wide range sport. The reflection of sunset is in CMYK colour which is the colour system of designers used in printing. The person sailing in the sea of CMYK represent students in YSDN are capable of use CMYK colour as well as sailors in the sea.
Pommel horse is also known as the side horse; it's an artistic gymnastics sport. I used the metaphor of typography as the pommel horse because designers always play around with typefaces. Type is like pommel horse, both of them are not allowed to change the meaning but only can add or edit on top of the frame.
Back of the cards contain the logo of the design department, School logos, and official website.